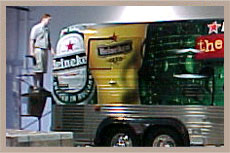 We have full-time professional installers & full-time professional graphic designers - available anywhere in the United States. Everything we do is 100% guaranteed. Our goal is always to meet or exceed your expectations for quality and service, and to ensure a cost-effective way for you to display your message.
Our services include (but are not limited to):
VEHICLE GRAPHICS INSTALLATION
We can wrap any make or size vehicle from golf carts to 53-foot trailers.
POSTERS, STORE FRONTS, BUILDING & FLOOR GRAPHICS AND BANNER INSTALLATION
If it rolls, we wrap it. We also provide and install banners of just about any size, posters, floor graphics, building graphics, wall murals and trade show display graphics.